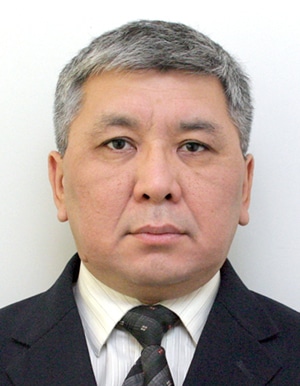 Maksat Demeshevich Zakirov
Maksat Demeshevich Zakirov was born on July 20, 1962 in Korday (Georgiyevka) village, Korday district, Zhambyl region.
In 1969, on a special recruitment, he was admitted to the Republican Special Music Boarding School named after A. Zhubanov in Almaty city. He graduated in 1980 with a degree in cello. In the same year he entered Almaty State Conservatory named after Kurmangazy, at the orchestral faculty of the Department of String Instruments. He graduated it in 1985.
In the period from November 1985 to July 1987 He was in active military service in the Soviet Army in Moscow Military District. In 1983, as a student, he was hired as an instrumentalist in the folklore-ethnographic orchestra "Otrar-Sazy". Under the leadership of the People's Artist of the USSR N.Tlendiyev, he worked for 12 years.
In 1994, he was accepted to the civil service in the Ministry of Culture of the Republic of Kazakhstan, as an assistant minister.
In August 1996, he was enrolled in the National Higher School of Public Administration under the President of the Republic of Kazakhstan, from which he graduated in August 1997. He has two higher educations. From 1997 to the present, he has held the following positions: Deputy Director of the Central State Museum of the Republic of Kazakhstan, Head of the Arts Department of the Astana Cultural Department, Advisor to the Deputy Akim of Astana city, Director of the State Brass Band of the Republic of Kazakhstan, Head of the Administrative Department of State Academy Theatre of Opera and Ballet named after Abay.
He was awarded the Diploma of the Ministry of Culture and Sports of the Republic of Kazakhstan, the anniversary medal "20 years of the Constitution of the Republic of Kazakhstan". Fluent in Kazakh and Russian languages. He is married.